Warning
This documentation needs to, and is about to be updated significantly.
Using with Mu¶
Warning
Some of the functions described here no longer work. This will be soon updated when the documentation reorganization is completed, likely prior to release of version 0.1
As mentioned previously, Mu is a fantastic editor for absolute beginners. Its design philosophy is to enable beginners to download a single program that comes with everything they need to begin their programming journey.
In the future, when Friendly-traceback is a bit more mature, it appears very likely that Mu will incorporate Friendly-traceback natively. For now, it is nonetheless possible to use Friendly-traceback productively with Mu by of adding a single line at the top of the program to be execute to catch most exceptions. For some others, unfortunately including SyntaxError which beginners likely encounter most frequently, one must do something slightly more complicated in order to benefit from Friendly-traceback while using Mu.
The way to do all this is described below. But first, one has to install Friendly-traceback in Mu's environment.
Installation¶
I assume that you have installed Mu on your computer. Mu picks up the language to use from the computer default settings, which explains why French appears on the screen capture below.
After you start it, you should see a gear icon at the bottom right corner.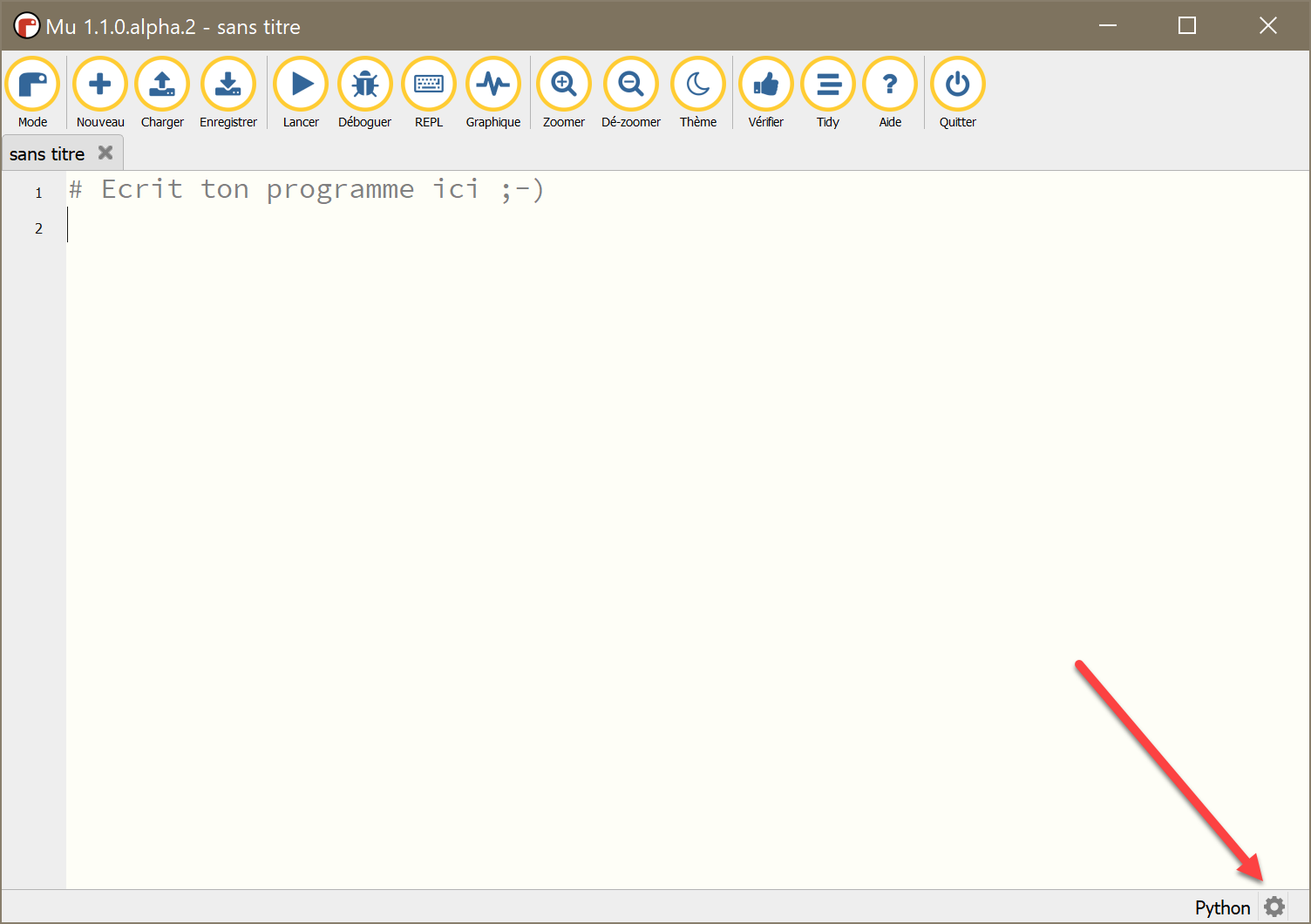 If you click on it, it will bring the following dialog.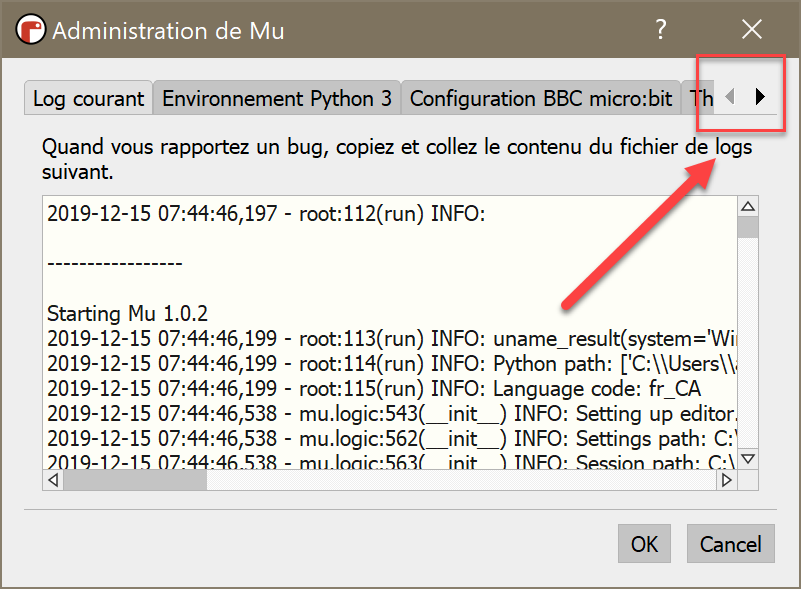 Click on the triangular "arrow" until the Third Party Packages tab is shown.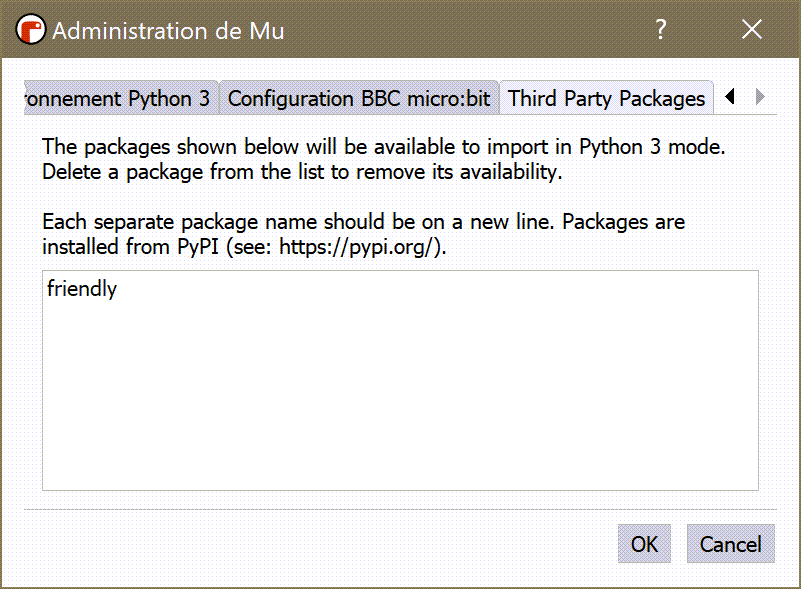 Enter "friendly-traceback" and click "ok". Friendly-traceback should be installed. Version 0.0.28 or newer is required. Note that until version 0.1 is released, Friendly-traceback is considered pre-alpha, and anything you see in this documentation could be rapidly obsolete. If somethings does not work, please do not hesitate to file an issue.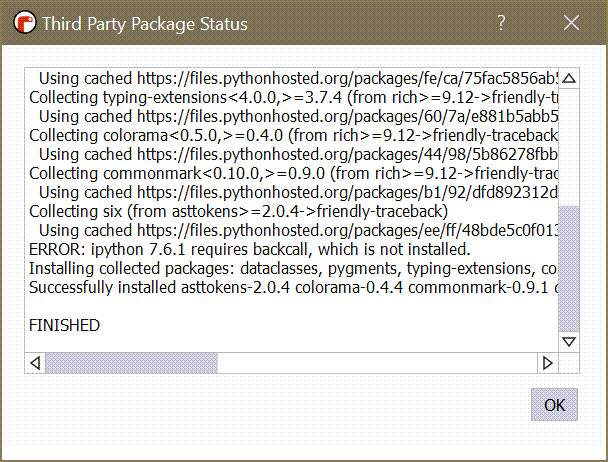 Before using Friendly-traceback with Mu¶
I have created a test module, called test_problem.py, that raises and exception. First, I show what happens when I run test_problem.py with Mu.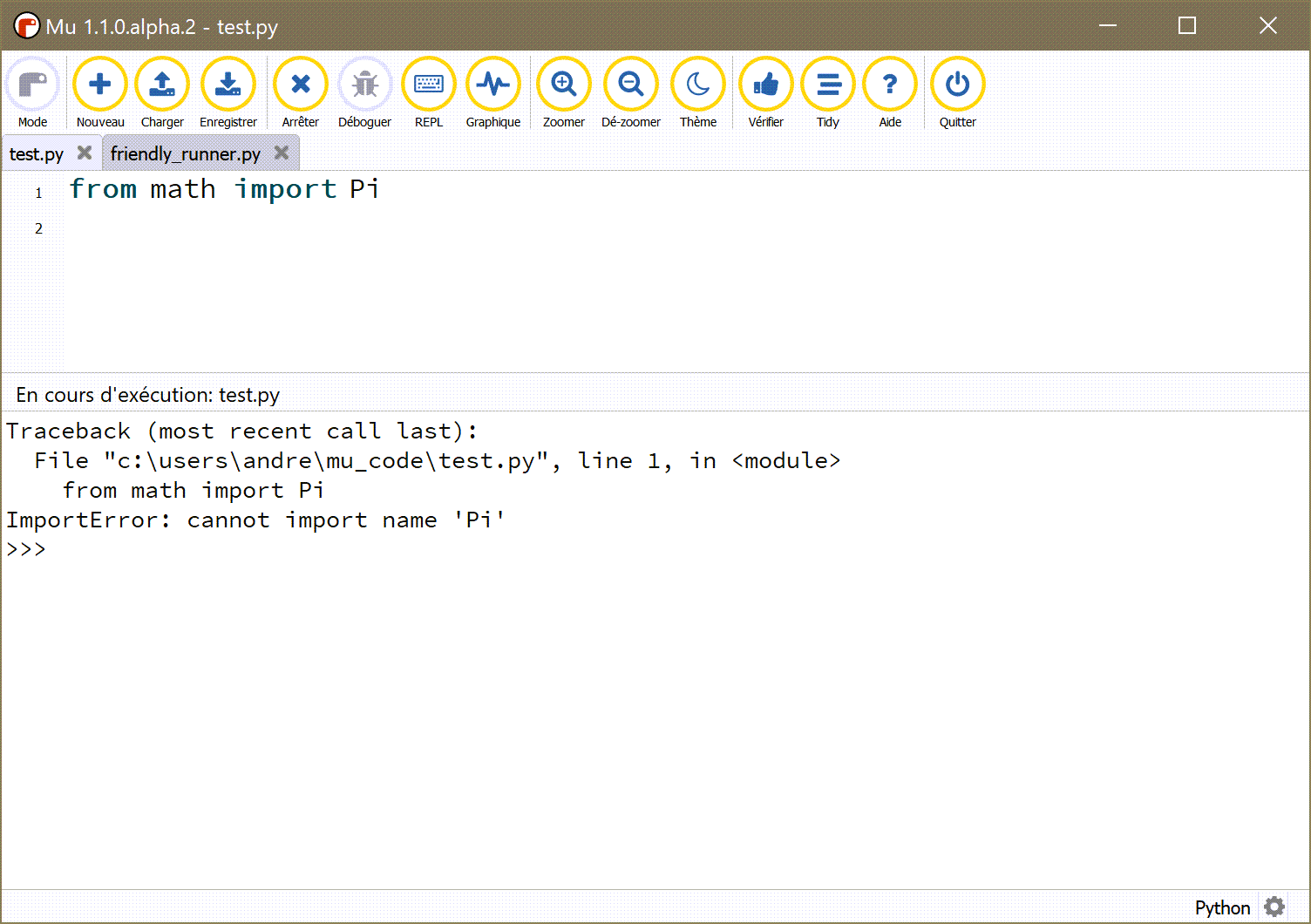 Using Friendly-traceback with Mu¶
With the exception of SyntaxError as mentioned before, to use Friendly-traceback with Mu, I need to add one line of code at the top, and run it as usual.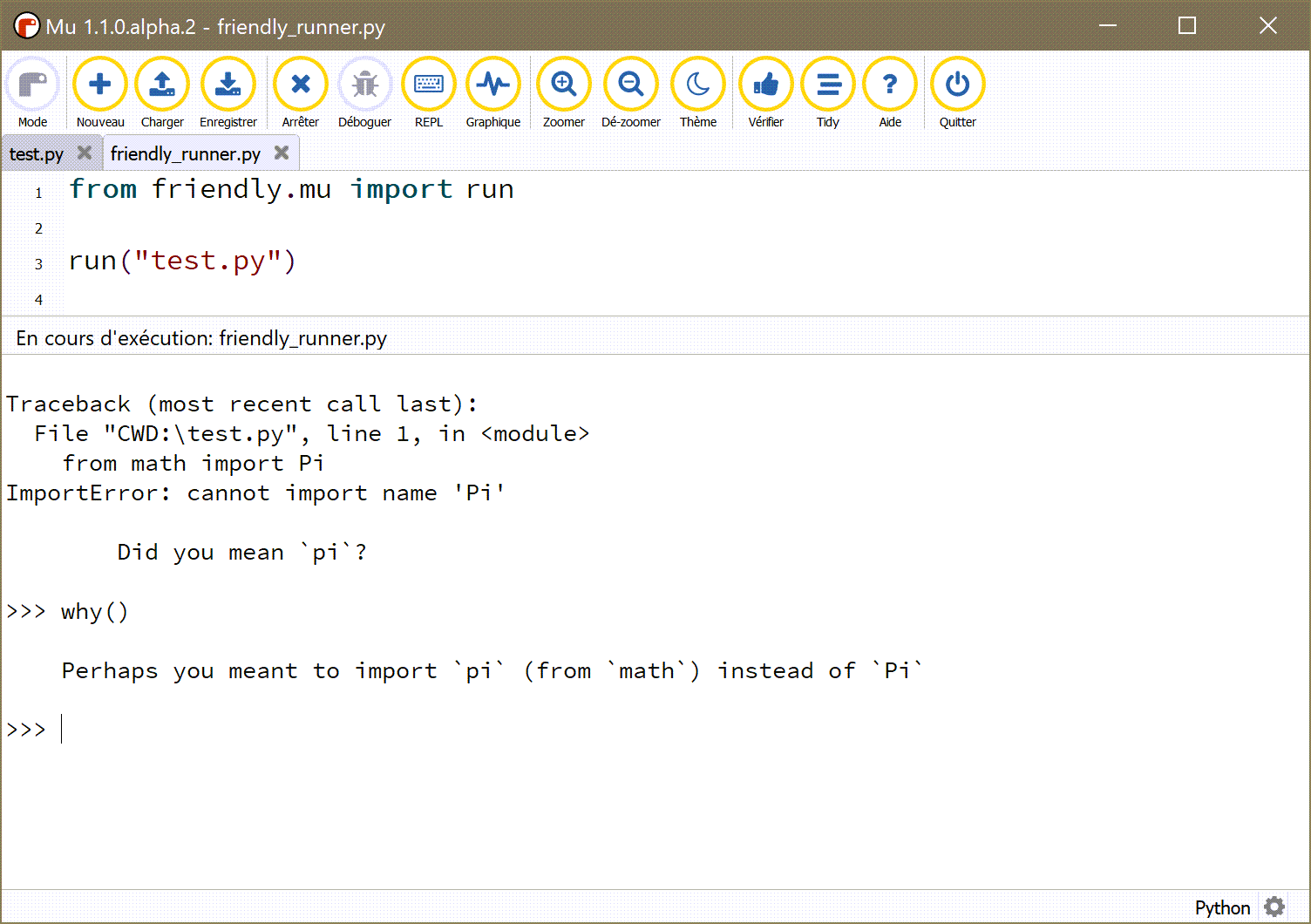 As should be expected, a friendlier traceback is shown.
Note
You can copy the required line from this:
from

 

friendly_traceback

 

import

 

explanations



This is equivalent to the following:
import

 

friendly_traceback




friendly_traceback

.

install

()



You likely will not be surprised to know that I can ask Friendly-traceback to provide explanations in French instead: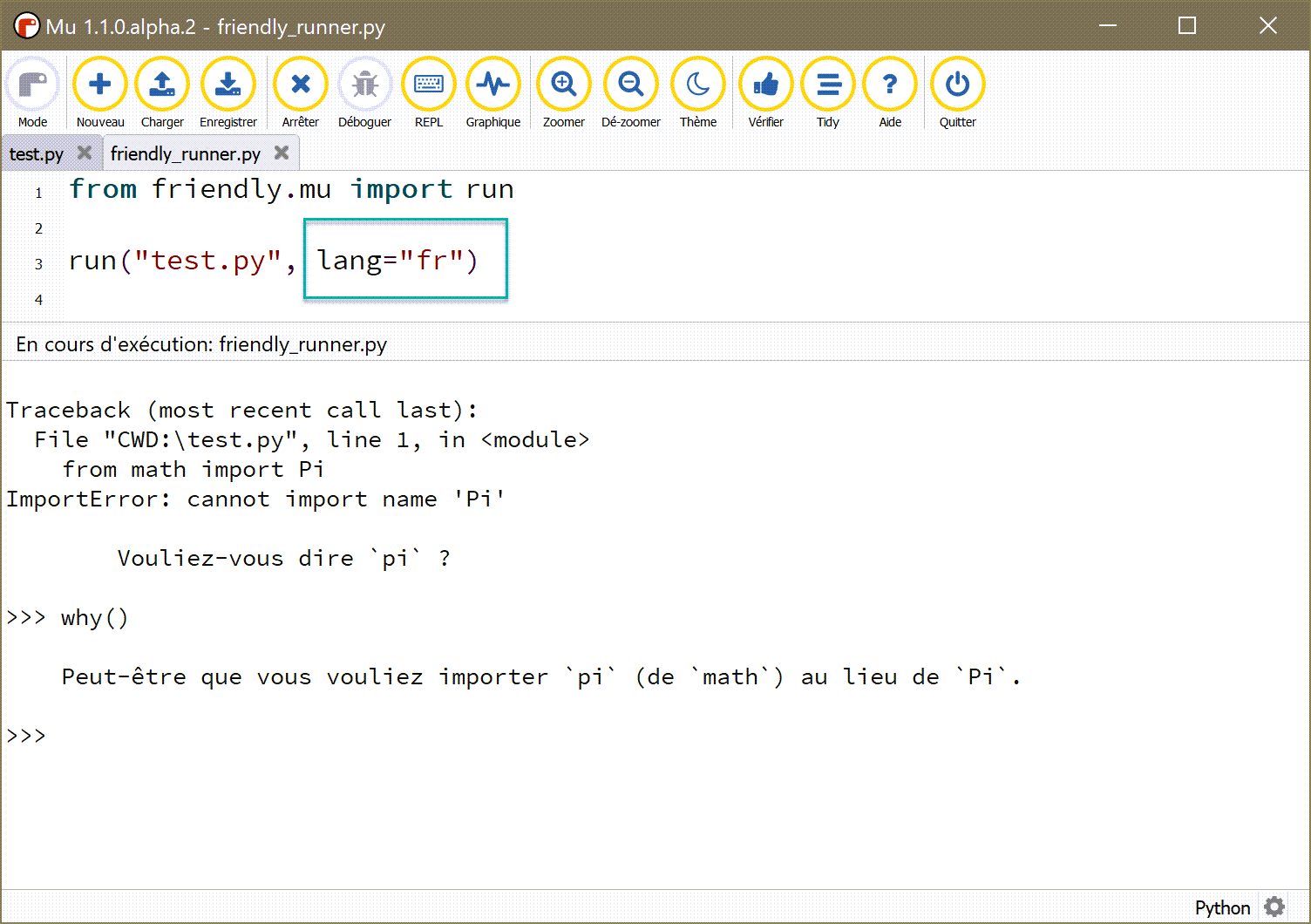 The single line of code at the top is equivalent to the following:
import

 

friendly_traceback




friendly_traceback

.

install

(

lang

=

"fr"

)



Ideally, more languages would be supported.
Dealing with

SyntaxError

¶
SyntaxError cases can be really problematic for beginners.
Importing Friendly-traceback as described above does not help.
What one must do is create another program, and run that program to perform the analysis on the target.
As usual, the default language used to provide the explanation is English. However, this can be changed by using an additional parameter when calling the function.